HEPA-14 air purifier with Co2 sensor.
Why do we need the Air purifier HEPA-14 ?
Air purifier HEPA. Most of the activity is indoors, over 90% of our day takes place in closed buildings.
More and more governments are asking for spaces open to the public to be controlled by a Co2 sensor, to be effective the sensors must be coupled with powerful HEPA 14 filtration so as never to reach the pollution thresholds authorized by the state.
The air to treat = less virus in suspension, less propagation, simple principle, but effective.
In the treatment area, Pyramid Air Protect® HEPA significantly reduces airborne particles and infectious aerosol clouds.
Equipped with fully automatic and connected turbine speed management, Pyramid Air Protect® HEPA adapts the treatment volume according to the level of Co2.
It is possible to keep the level of Co2 and therefore particles in the ambient air at a low level, thus reducing the risk of airborne infections.
Pyramid Air Protect® HEPA create a work environment where the risk of infection is very low.
High Capacity Industrial Air Purifier HEPA-14
Air flow: 1500-2000 m3 / h.
Size: 60x40x120cm
Efficiency: 99.995%
In Options on request
Mode Plasma
Mode Boost Ozone
Reduces the risk of airborne infection in closed rooms.
Pyramid Air Protect® HEPA is an innovative solution that creates areas of clean air containing low concentrations of viruses and pollutants when needed.
This professional air purifier is equipped with :
4 HEPA 10 pre-filters
1 high efficiency HEPA 14 filters.
The air to treat = less infection in suspension, less proliferation, basic principle, but effective.
Pyramid Air Protect® HEPA dramatically reduces airborne particles and clouds of infectious aerosols in the treatment area.
It keeps the level of the virus in the ambient air near zero, thus reducing the risk of airborne infections.
Pyramid Air Protect® HEPA creates a work environment, where the risk of infection is very low.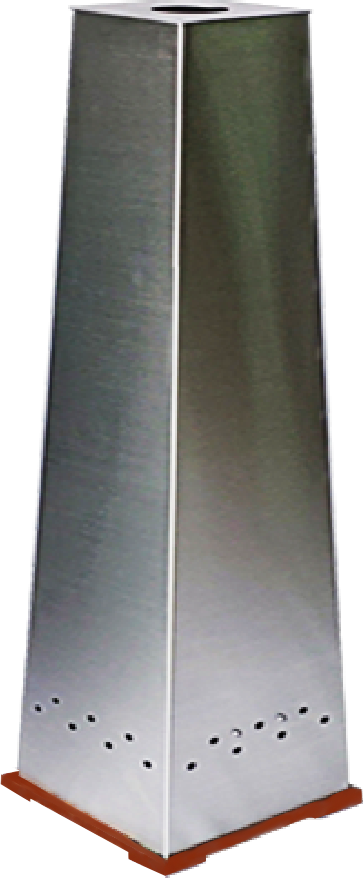 4 TREATMENT MODES
including 3 modes on request (option)
HEPA filters 14
The HEPA-14 filter is capable of capturing dust and particles as small as 0.3 microns (smaller than PM 2.5 dust) at 99.995%. With the advanced fiber technology, it is possible to ensure that very fine dust containing other impurities such as pollen, smoke or even bacteria and mold floating in the air will be captured.

Mode UV-C (Optional)
UV-C are effective in killing germs and bacteria that contaminate up to 99.99% in the air, drawn into the interior of the Pyramid Air Protect® by an extremely powerful and quiet multi-speed fan.

Mode Boost Ozone (Optional)
Can kill germs in the air and inhibit the growth of pathogens such as bacteria, fungi and viruses by up to 99%. In addition, ozone effectively eliminates various odors. After the reaction, ozone is converted back to oxygen, which is harmless and has no negative effects on humans, animals or the environment.

Mode Plasma (Optional)
Thanks to the plasma that generates ions so that particles and microorganisms in the air are trapped and fall to the ground to purify the air.
Les points forts De Pyramid Air Protect® HEPA
Adjustable ventilation from silent (35db) to high (65db) mode according to the need for treatment.
Air flow 2000m3 hour for rapid air treatment and renewal.
For rooms up to 100 m² with a height of 3m, calculate for a change of air in the room 6 times per hour.
Connected and programmable via app.
Suction by the 4 sides.
HEPA 10 pre-filtration (4 filters 1 per side).
HEPA 14 filtration retains 99.995% of viruses, bacteria, dust etc.
Powerful and professional UV.C lamps 24/24 operation guaranteed.
Durable HEPA filter according to EN 1822 class H14.
Quick and easy commissioning without specialized personnel.
Installation of ion generator (s).

Installation de lampe(s) ozone
for ozone bosts for in-depth treatment (outside of human and animal presence, for example at night)
Performance
For large rooms
up to 300 m3 maximum

HEPA air filter
Made of woven fiberglass, efficiency 99.995%

Sterilization
Eliminates viruses, bacteria, dust, pollen, mold, and all particles.


Processing methods
UV-C mode, Plasma mode, Ozone Boost Mode